The adventure
continues in
The Secret City
The Sceptre: "A Jonster the Monster and the Bear adventure"
Young Adult Novel by B.E. Boucher
The Sceptre: "A Jonster the Monster and the Bear adventure"
by B.E. Boucher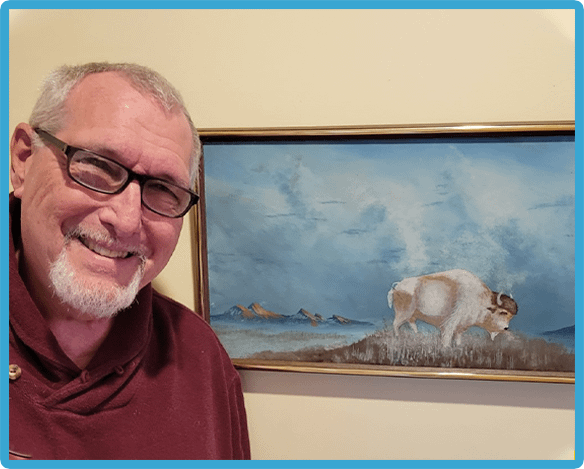 About

B.E.Boucher
B E Boucher is the author of the Jonster the Monster and the Bear trilogy. The Sceptre introduces Jonster the Monster and the Bear and friends to readers badly in need of good YA Fantasy stories. The Secret City is the second book in the series and continues the fantasy adventures of his beloved son Geof "the Bear," who passed away in 2021 due to complications from brain cancer. To honor the spirit and values of his son, Boucher gives encouragement and hope to young people who are facing life threatening illnesses, bullying, or other tests of the soul. Geof was an "I got this" battler and an inspiration to everyone he touched. In the trilogy, the Bear teaches young people that their troubles can be overcome with humor, imagination, and a never say die attitude.
The author poses next to a painting of a white buffalo by the noted native American artist Godfrey Broken Rope. You may remember the name Broken Rope from the Sceptre, and he figures prominently in the Secret City. He used to come to Sheridan during the rodeo and All American Indian Days. He would set up shop outside a store on Main Street. People would come and he would make them paintings on masonry boards. Most of them were landscapes. He would say, "do you want trees…do you want mountains… do you want a lake…. do you want a sunset?" And whatever somebody wanted, he would paint it for them. And he painted most of them in 30 minutes or less. He frequently used house paint as his medium. Something like the white buffalo is extremely rare for him. I am quite happy to have found it, especially since when you read the Secret City (as you should), a white buffalo figures prominently in the story.
Read More
"Kirkus stars are like diamonds: extremely rare. A starred review is the top of the top, a prestigious, Holy Grail that highlights books of "exceptional merit". A starred review represents outstanding writing. Kirkus gives about 3000 "Indie" reviews a year. Only 60-90 get a Kirkus Star."
Click Here To View Full Review
Watch Mariel Hemingway Compare #1 Amazon Best Seller "The Sceptre" by B.E. Boucher to Harry Potter
The audio version of the Sceptre is available on audible through the beautiful narration of Steven Lloyd. Steven is well known throughout the entertainment industry. Millions will recognize him as the voice of wrong numbers in Chicago. Steven is available for voiceover work and can be contacted through this website
Amazon audio book
About The Book
The Sceptre
Did you ever dream of traveling to an alternate universe? I actually did it. I am the Bear, high school kid.
My life-long wish has been to find my mother who disappeared when I was a baby. And Indian medicine man told me it was possible to find her, but I would have to look in the magical kingdom of his ancestors. My friends said they would go with me if I gave it a shot. So I did. Be careful what you wish for. We promptly found ourselves in a fantasy land where we met Uriah, a talking cocker spaniel. He told me my destiny was sealed by an ancient scroll that prophesied an unlikely hero who would come out of nowhere to save his homeland from destruction by an evil king. He said I was that hero. No pressure.
Life in Uriah's world is one big twist. Nothing is what it seems. Both good and evil attempt to trick me at every turn, and I continually struggle to separate illusion from reality. My friends might not be who I think they are, and I am forced to trust my life to a lovable, but self-centered dog. I could use a little help. Join me. Together we can solve the secret of the Sceptre
Click to Purchase at one of these Retailers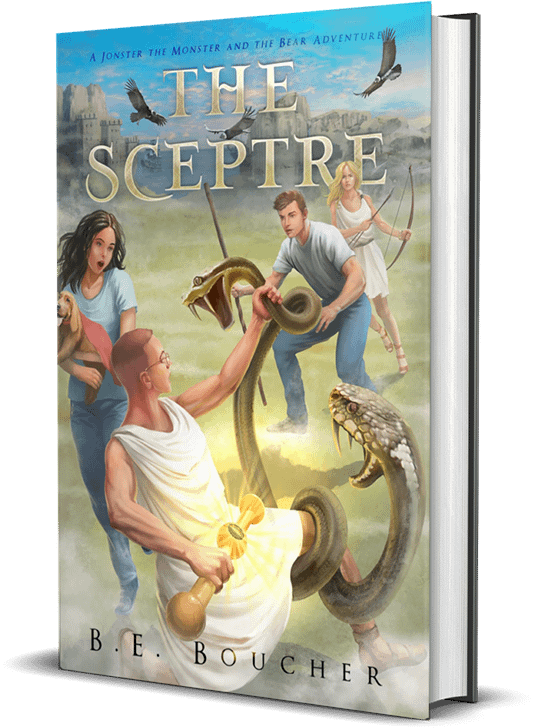 Reviews
What The Reader Says
"The Sceptre: A Jonster the Monster and the Bear Adventure is one of those stories that right from the very first page we realise it would be a fun ride."
"Here, author Boucher has been able to merge the story of native Americans into a fantastic and magical tale about Geof, the main character, whose mother disappeared when he was a baby. He set out to find her, but the searching is not a regular one, he would have to delve into the magical kingdom of his ancestors. Written entirely in a dialogue-based form and with fluid and elegant language, Bouches has opened a fantasy world that kept me up for many nights. I was unable to put it down until the final heart-pounding twist. Loved it!"
Susan Bi
Love it
"Boucher has crafted magical and wonderful story that intertwines ancient Native American wisdom with modern life.
The book immerses you in a beautiful fantasy where historical characters like Archimedes and Leonardo De Vinci come out of nowhere to help teenagers fight evil.
I would love to live in that world Mr. Boucher created where all creatures deserve respect. Bullied kids can read about someone just like them, and see him rise above his pain and become the object of admiration. . Cats and dogs talk in Boucher's world. I wish mine could, although I am not sure I would want to hear what they say. But most of all, I love the message…Never, ever, ever give up.."
Angel
Love the book! The best since Harry Potter!
The Sceptre: A Jonster the Monster and the Bear Adventure by B.E. Boucher is a magical adventure teen-ager will enjoy. Geof, known as Bear, is ready to seek out answers to his mom's disappearance many years ago. He is a defender of anyone who is being picked on and makes friends easily. Jon is Geof's best friend, and he wouldn't dream of letting Geof have all the fun finding his mom. Along with Debbie and Patricia, these teens travel to worlds unknown and face danger unforeseen.
I found B.E. Boucher an intriguing author that draws you into the story and makes you cheer for the characters on their quest. I felt The Spectre: A Jonster the Monster and the Bear Adventure similar to a modern-day Hardy's Boys novel. I enjoyed the Native American story entwined with the story. This book is a fun read, and young adults will enjoy the journey they take to find the answer to the question; what happened to Geof's mom?
JoJo Maxson
Spectacular read for teenagers.
"The Sceptre: A Jonster the Monster and the Bear Adventure written by B. E. Boucher is a middle length book that was really entertaining and which I couldn't put down."
"In the first place I purchased this book for my teen nephew but before sharing this with him I gave it a try and I was surprised how much I liked this book which is aimed for teenagers. Characters are very well described and developed as well as their search and role in the story. I believe that the length is correct for the age group it is intended for, as it is not a very long book."
"I would recommend reading The Sceptre."
Santiago Flores
An entertaining story for teens
"The Sceptre: A Jonster the Monster and the Bear Adventure is the story of Geof, known as Bear is a teenage boy that lost his mom when he was just a baby and with the help of a medicine man, he found out he was able to find her if he went back into the magical kingdom of his ancestors. And so, he did, with a couple of friends. They end up meeting a lovely but self-centered dog."
"This is a fantastic story filled with magic, tricks and travelling to far away universes. Geof's character is very interesting and it's a great leader in the whole book. The different scenarios that Boucher, the author, was able to build are wonderful. The plot comes with twists and mystery while the characters live an adventure they will never forget."
Agustina
A great adventure awaits!
"This book is fantastic!! It truly kept my interest and if I could, I'd give it more than 5 stars. I can't wait to share it with my grandson and I'm looking forward to the other books in the series. Great descriptive language!!!"
Robin W
Superb book for teens/young adults
"It's a fairly standard story of a kid who had at least one parent disappear and now he has to go through a series of magical adventures to find them. But it's well-written and I liked how the author weaved Native American lore and historical figures like Leonardo da Vinci through it. It's not very long, but then, the author doesn't really need much longer to tell a story like this."
astrofan
Good teen novel.
"The Sceptre: A Jonster the Monster and the Bear Adventure is a novel for teens written by author Boucher. There are plenty of well described and developed characters that amazed me. I read this together with my niece, who is fifteen, and we both like it. We found the plot interesting and it was difficult to stop reading because we wanted to know what would happen next."
"This fantasy story is really captivating. There are many interesting elements that make this an unputdownable novel. Although it is aimed at teenagers, I believe that any young adult would enjoy it as well."
"I recommend reading The Sceptre by B. E. Boucher."
Mia C.
Unputdownable